STONY POINT, NY – Assemblyman Colin J. Schmitt (Stony Point) sent a letter to Governor Cuomo regarding the ongoing restrictions on local New York gyms and fitness centers that have been closed due to the COVID-19 pandemic.
In recent weeks there has been a significant uptick in outreach from local gym and fitness center owners, employees and clients to Assemblyman Schmitt's office. They have reached out with grave concerns over the lack of clear guidance or even a potential runway to reopen.
The concerns they raise are not just for the economic viability of their businesses which are true homegrown gym and fitness venues, not big box chain gyms. The concerns are far deeper and speak to the very nature of health and wellbeing that we are all quite focused on right now.
Assemblyman Schmitt recently visited Granite Barbell Gym in Hamptonburgh to inspect the specialized cleaning and sterilization process that can be used by local gyms and fitness centers to reopen with COVID-19 modifications.
Assemblyman Colin J. Schmitt stated, "Our local gyms and fitness venues serve as a place for New Yorkers to focus on their physical, mental and emotional health needs. Many serve local residents who are on strict regiments to ensure physical health to prevent or relieve pain or tackle some other physical ailment.
Many of these venues serve as an outlet for mental health and emotional health stimulation. People who battle PTSD is one example that has raised with me in the last several days. Locally Granite Barbell Gym in Hamptonburgh highlighted to me how they can serve veteran members who follow specific workout regiments as a healthy outlet instead of the use of prescription drugs or other homebrew solutions.
"I believe the long term overall health value of authorizing the reopening of these local gym and fitness centers with some modified restrictions will go a long way in keeping New Yorkers healthy. I urge the Governor to take this into his utmost timely consideration." said Assemblyman Schmitt.
Brett Somerville, Co-Owner, Granite Barbell Gym stated, "I'd like to thank Assemblyman Schmitt for visiting my small gym in Hamptonburgh to see that we can open and operate successfully following safety protocols and social distancing. Gyms serve multiple purposes and are beneficial to not only an individuals physical health but their emotional and mental health as well. Here at Granite Barbell Gym – we are a family and we are there for each other. Not being able to see my clients for over 4 months has been tough for both me and them. We appreciate Assemblyman Schmitt's attention to this issue and we are hopeful that Governor Cuomo will lift some restrictions to allow us to operate safely and start helping people again!"
Assemblyman Schmitt's Letter to Governor Cuomo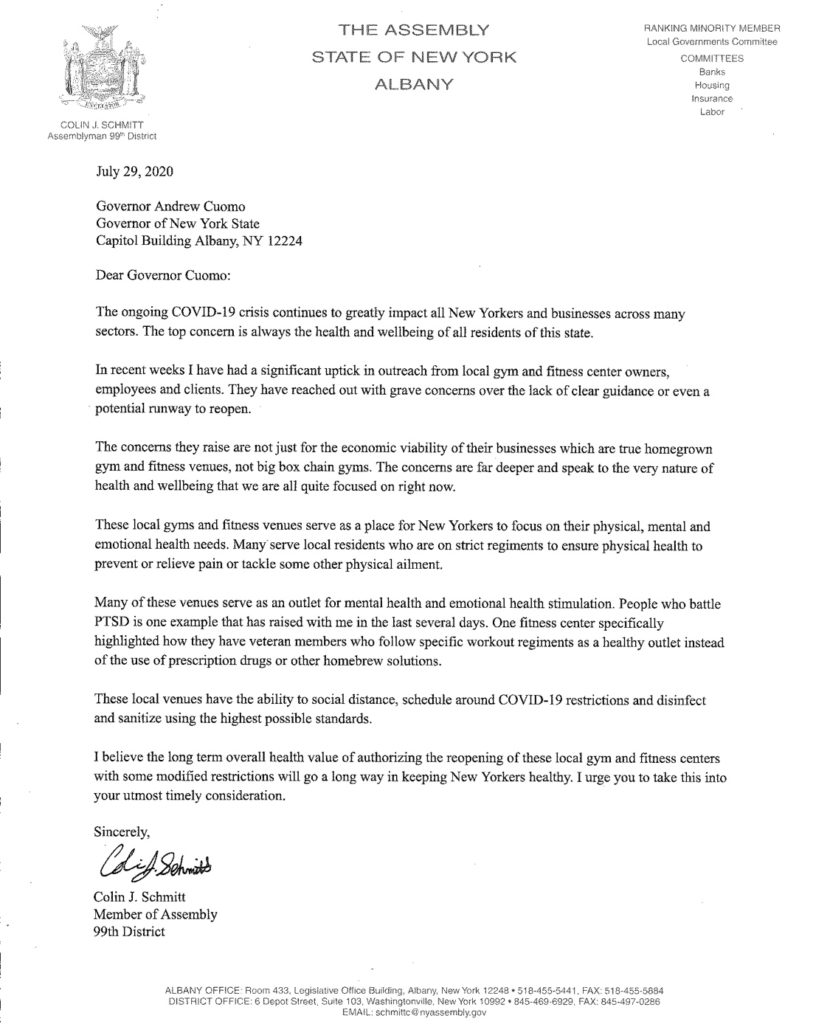 Anthony Esposito, Owner of Anthony Esposito Fitness stated, "Local fitness centers like mine have the ability to provide essential services to New Yorkers focused on their mental health and physical wellbeing during this ongoing crisis. I do appreciate the Assemblyman taking the time to safely visit gyms in his district to learn how we can adapt and operate in a safe environment for our clients and trainers alike. It is critically important to lift some restrictions on the smaller gyms and fitness studios that have the ability to socially distance and follow every standard safety protocol put forth, especially in a private 1 on 1 training situation. Thank you to the Assemblyman for continuing to champion this issue for all gym and studio owners and users at this time!"