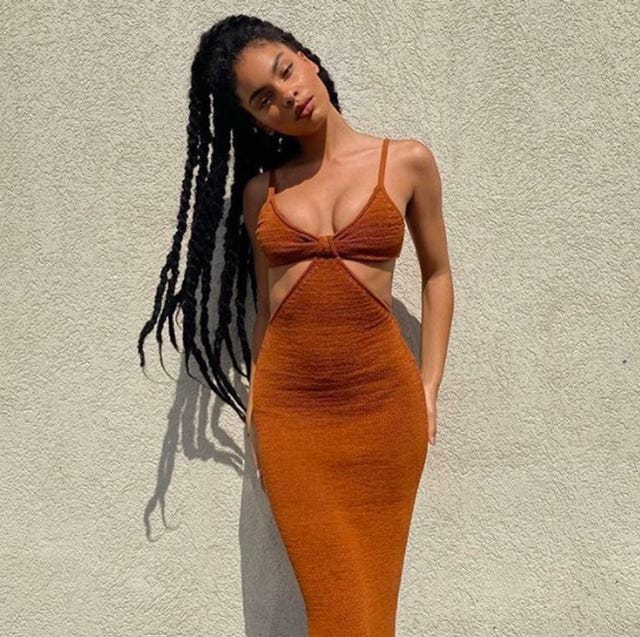 INSTAGRAM
If you're one of the lucky ones to have had the chance to fill lockdown days by baking banana bread, watching Netflix, chatting to friends on Zoom and shopping, then this might interest you. We might not have had anywhere to go other than our local park for our daily walk, but that didn't stop us online shopping to pass the hours. And according to global fashion search platform Lyst, we were all buying a lot of similar products.
This week, Lyst have released their latest edition of The Lyst Index and it shines a light on how shopping habits changed from April to June this year. So what have we all been buying?
As office workers began working from home, Nike reported a 75% increase in digital sales and had a 105% increase in demand for loungewear and activewear. If we were using the sofa as an office, we wanted to be comfy.
Red carpets were cancelled, so where did we all turn to for our fashion inspo? Instagram of course. This meant page views for Cult Gaia's Serita dress spiked 236% in June, thanks to Rosie Huntington-Whiteley and influencer Camille Charrière and it thus became one of the top 10 items bought in lockdown.
Unsurprisingly, global demand for face masks was up nearly 450% from the previous three months. Many labels released their own, but it was Marine Serre's moon-print face mask that came out on top as the most wanted women's mask over the last three months.
So, what else were we all searching for and buying during lockdown? Read on for the top 10 items…
Advertisement – Continue Reading Below
1
Missoma X Lucy Williams Gold Chunky Entwine Hoops
2
LOEWE Medium Woven Basket Bag
3
Nike Court Victory Tennis Skirt
4
Birkenstock Arizona Two Strap Sandals
5
Frankie Shop Eva T-Shirt
9
Marine Serre X R-pur Face Mask
This content is created and maintained by a third party, and imported onto this page to help users provide their email addresses. You may be able to find more information about this and similar content at piano.io
This commenting section is created and maintained by a third party, and imported onto this page. You may be able to find more information on their web site.
Advertisement – Continue Reading Below